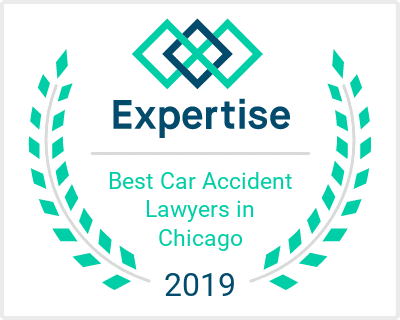 Staver Accident Injury Lawyers, P.C. is proud to have been named among the Best Car Accident Lawyers in Chicago 2019 by Expertise. For over 18 years, Jared Staver and his team have focused on representing car accident victims, including those who suffered injuries and surviving family members. This focus has enabled Jared and his team to become skilled car accident victim advocates who routinely obtain significant settlements and jury awards for their clients.
Staver Focuses on Car Accident Cases
One of the reasons the attorneys of Staver Accident Injury Lawyers, P.C. are considered experts by legal and professional organizations is because the firm focuses heavily on these types of claims. Jared Staver has 20 years of experience as a personal injury attorney. Since founding the firm in 2001, he has consistently handled all types of auto accident cases, from the most common car crash to the most complicated commercial truck wreck.
He and his associates' in-depth experience with car accident cases has allowed the team to build a strong body of knowledge, skills, and insights unique to the Chicagoland region. The team is prepared to take on any type of car accident case no matter the intricacies and complexities, type and severity of injuries, or insurance coverage.
The Expertise Evaluation Process
Expertise relies on their proprietary research and selection processes to identify the top professions in more than 200 industries in top cities across the U.S., including Chicago. This enables Expertise to help more than 10 million customers find the right service professional for them each month.
The organization's process begins with gathering and analyzing publicly available data. They verify the professional's contact and license information to ensure the service professionals are in good standing in their communities and professions. Expertise then grades each business based on reputation, credibility, experience, engagement, and professionalism.
Through this extensive process, Staver Accident Injury Lawyers, P.C. was chosen as one of the Top 20 lawyers in Chicago, out of more than 714 firms reviewed.
The Staver Car Accident Case Process
Every car accident case begins with an unexpected collision. In less than 60 seconds, a driver or passenger's life can be changed forever. Staver Accident Injury Lawyers, P.C. understands that all too well, which is why they believe in thorough investigations and case preparations.
Once a car accident victim calls the team for help, the top priority becomes ensuring that the victim has the best possible medical care. Many crash victims are overwhelmed by what the doctors are telling them and how much it is all going to cost. Jared Staver or one of his associates works with the crash victim to ensure they are receiving appropriate care and obtain appointments with any necessary specialists. The team also works with medical providers to place medical bills on hold while the case is pending.
The team proceeds to gather as much evidence as possible, including the police report, photos, videos, and witness statements.
While Staver Accident Injury Lawyers, P.C. pursues their car accident investigation, they also work with their clients and their clients' insurers to repair the damaged vehicle or replace the totaled vehicle. The team understands how vital this is to most families. Being without a car can mean being unable to go to work, get the kids to and from school, and run necessary errands.
Finally, after a great deal of preparation, a lawyer begins the process of demanding compensation from the at-fault driver's insurer. This typical means exchanging phone calls and documentation with the insurance adjuster, and in some cases, arguing against one or more of the adjuster's conclusions, such as the value of the vehicle, the client's future medical costs, or the value of the client's pain and suffering.
In a majority of car accident cases, Staver Accident Injury Lawyers, P.C. is able to negotiate a settlement encompassing the full and fair value of the client's physical, psychological, and financial injuries.
However, when an insurance claim is not possible or the insurer refuses to settle, the team is not afraid to take a car accident victim's case to court. By pursuing a car accident claim in court, an insurer may be more apt to settle, or the team can demand compensation from a judge or jury.
Recent Car Accident Case Results
In recent years, Staver Accident Injury Lawyers, P.C. has obtained excellent results for car accident victims, including:
$400,000 for a woman whose vehicle was struck by a motorist who failed to yield to oncoming traffic.
$950,000 for a woman who was struck head on by a motorist attempting a left-hand turn.
$896,695 for a man who was struck head on by a senior citizen who lost control of their vehicle and crossed the center line of traffic.
$887,500 for a man rear-ended at a stop sign.
$391,424 for a man rear-ended at a stop light.
Contact Staver Accident Injury Lawyers, P.C. Today
Victims of car accidents in the Chicagoland area should contact Staver Accident Injury Lawyers, P.C. at (312) 236-2900 to ensure a seasoned and successful attorney handles their case.